Bangkok Training Program and Job Placement
Teaching English Opportunity in Bangkok
Introduction
In Bangkok, Thailand, embark on a new teaching experience! This new supported work opportunity will allow you to begin teaching in the capital city of the Land of Smiles. All new teachers are welcome, and all pre-departure and post-departure training is provided. You will be thoroughly guided throughout the process, and even if you are new to teaching, you will not feel alone thanks to the support available to you.
This 6-month placement offers a high salary, allowing you to be able to live, work, and travel comfortably. Private language schools in Silom, Lad Prao, and Hua Hin are part of our in-country partners' network. If you enjoy it, which you will, there is an option to extend your stay! When you arrive at the airport, you will be met and taken to a hotel for the length of your orientation. To begin, you will stay in a hotel for 7 nights and complete your orientation. Before you begin working, you will have the opportunity to learn about Thai culture, sightsee, meet your colleague's teachers, and receive additional training.
You will have the option to highlight your preferences during the teaching process, but you must be willing to teach students of all ages, from kindergarten to adults, and from conversational English to Business English. You will also have the option to teach your students how to prepare for English exams. There are many options, and some of these classes can even be taken from the comfort of your new Thai home. If you're a city slicker, this is a great place to start. You can go anywhere from Bangkok, it has a terrific expat community, and it's not far from fantastic island resorts if you need a quick getaway!
---
What's Included
Monthly salary of 40,000 (THB) Thai Baht (€1,100/£945)
120-Hour Premier TEFL Course Included
3 x Specialist Courses included: 30-hour Teaching English Online course, 30-Hour Teaching Business English course and the 30-Hour IELTS Specialist course
2 x Extensive Lesson guides for Teaching Young Learners English and Business English.
Airport pick-up and transfers are all included
Orientation: 7 nights in a hotel / Bangkok City Orientation & Training
School: Private language school
Accommodation Support: assistance to find a suitable apartment including arranging an agent to take the teacher for viewings.
Ongoing In-country Support & Visa Assistance
Educational level: Bachelor's Degree
Passport holder from which countries: Ireland/ UK / USA / Australia / New Zealand / Canada / South Africa
Clean Criminal Background
TEFL qualified (included)
Police check: Each applicant must have a clean criminal record
Budget: Each applicant covers excursions & meals outside of school hours
Accommodation: Housing deposit is required.
Guidance with legalisation of your documents
Travel insurance: Comprehensive cover for travel & medical insurance
Accommodation, meals, additional COVID-19 test for a 1-day quarantine after arrival
Visa cost: You'll have the support to obtain your visa and the cost is reimbursed in your first month's allowance.
Legalisation of bachelor's degree: Ensure to have your degree script readily available for this process before applying. If you are in your final year of studies, speak to our team about this step!
Location
3 School Locations: Silom, Lad Prao, Hua Hin
Fill in your details below and we'll be in touch with you very soon!
Job Hunter's Guide
Your first steps to becoming a fully accredited, internationally recognised EFL/ESL teacher within 4 weeks!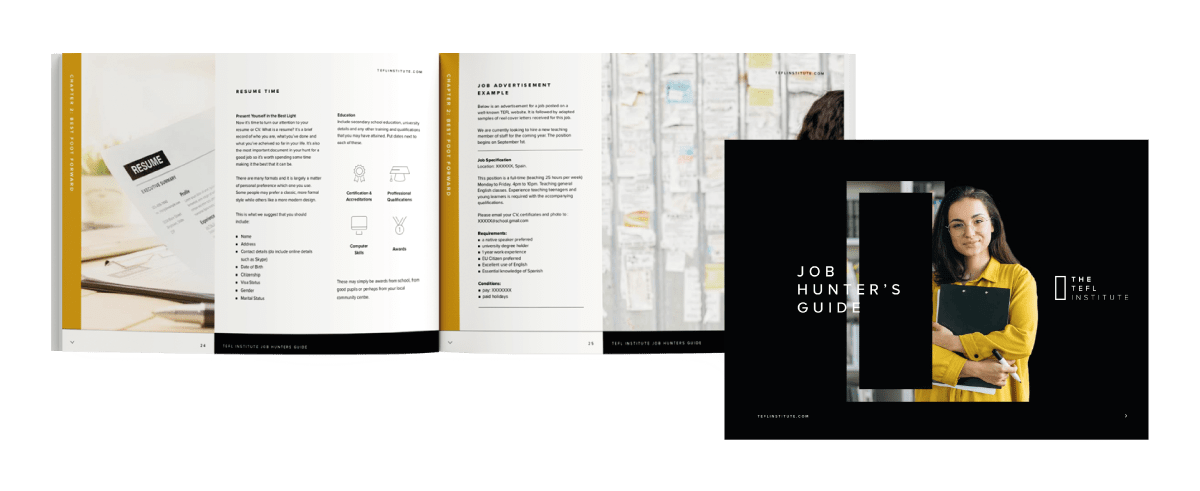 Download Now