Internship Eligibility Form
Fill out our form today and we'll match your abilities and goals to your ideal TEFL Internship.
Check your Eligibility
Your trip Itinerary
When you arrive, our in-country team will greet you and the other interns (unless you must complete a quarantine). After the one-week orientation, you'll travel to your placement area.
When you arrive, you'll get a full week of cultural orientation.
Our in-depth culture and language orientation takes place in Phnom Penh and is a one-week, comprehensive, active learning, culture, history and language programme.
Workshops and activities include:
· Khmer language lessons
· Cambodian history, culture, geography and society
· Overcoming culture shock
· Cambodian cooking class
· Visit the Killing Fields and museum to learn about Cambodia's past
· Market trips
· Visit a Buddhist temple to learn about religion in Cambodia
You will have the opportunity to teach in Cambodian language schools as well as private schools.
These two options may have different teaching hours. Language schools, for example, are busiest on Saturday and Sunday. Teachers teach on weekends and then take time off during the week. Private schools typically operate Monday through Friday, so teachers work during the week and are off on weekends. In both schools, you will primarily teach young students, but there are some high school positions available.
Congratulations, you did it! Be sure to congratulate yourself on your accomplishment. It's time to choose whether you want to see more of Cambodia, travel, or teach (or both).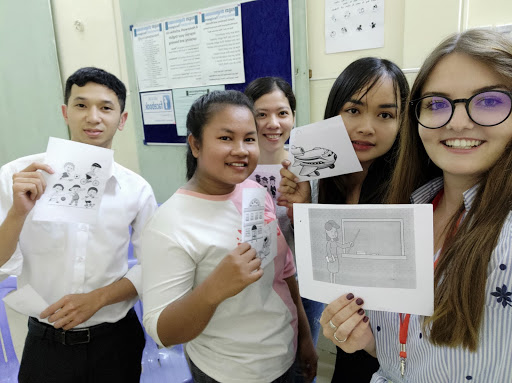 Alyssa
Hello! Alyssa is my name; I'm 22 years old and half German and half French. Hence, not a native English speaker. I began working in sales after completing my education in business. I did, however, recognize that there was still a lot to learn about this universe. Thus, I decided to apply for a TEFL internship in Cambodia, and here I am!
Read More
Locations
All successful applicants will live in the same area of the capital city: Phnom Penh
Interested? Get in touch.
If you are interested in teaching English in Cambodia and would like to learn more, request a call with one of our experienced travel advisors about this opportunity.
how it works
Before you go, you'll have an application form to fill out and documents to submit, have a video chat, and then you'll be on your way.
Explore this internship!
Teach abroad - Explore the world and improve the lives of others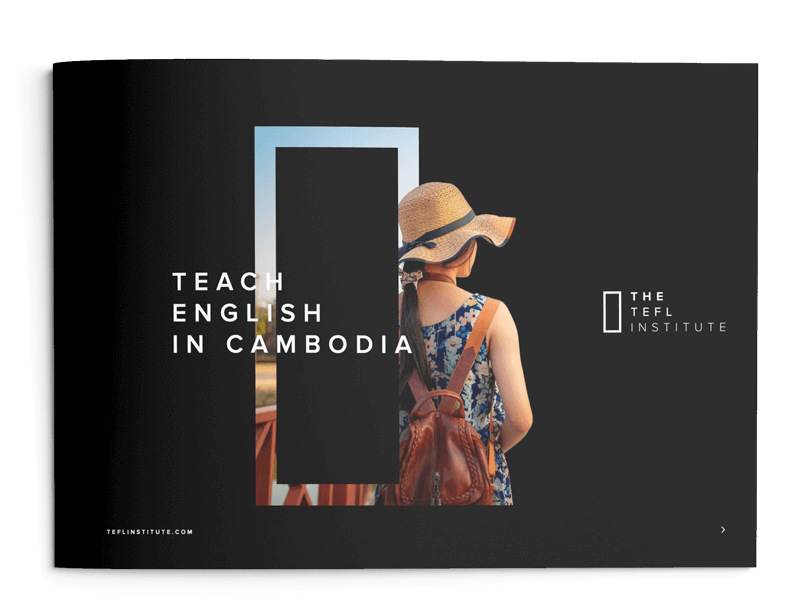 Get the guide to Cambodia
Cultural Excursions
Wondering what you're going to do with your precious free time? We know there are certain adventures that cannot be missed out on! So make sure to take a look above at these recommendations from past TEFL interns in Cambodia, and create your own Cambodia bucket list!

Outside the Classroom
Outside the Classroom
You may enjoy the plethora of activities around you in Phnom Penh on the weekends. Or, you and your other TEFL instructors might go on an adventure to explore all of Cambodia.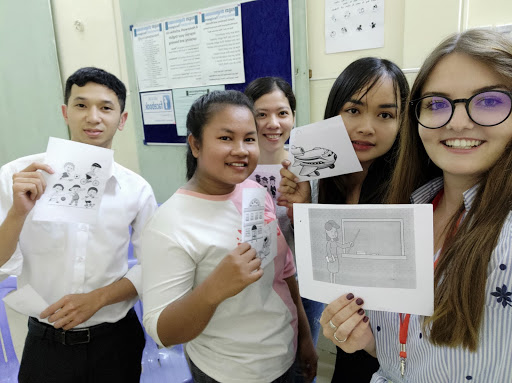 Teach & Travel
Teach & Travel
With pupils of various ages, from kindergarten to working adults, your teaching methodology will centre on conversational English. Our TEFL course will give you the abilities and information needed to teach these classes to students ranging from absolute beginners to highly proficient English speakers.

Work Schedule
Work Schedule
Your weekly work schedule will consist of 30 hours split between designing lessons, teaching in the classroom, and grading.
verified student reviews
Out of 1570 global reviews